Jhulan Goswami Retirement: From Chakdah to Lord's, Jhulan Goswami has had a fairytale journey | Cricket News – Times of India

KOLKATA: Twenty years and 261 days ago, a lanky 19-year-old girl from Bengal hinterland Chakdaha had stepped into the world of
cricket
as a raw, rookie pacer. It won't take Jhulan Goswami long to become a legendary fast bowler.
In the era of compact disc, Jhulan was like a long-playing record, who started her international career in 2002 under the Women's Cricket Association of India (WCAI) against England in Chennai.
At 39 years and 302 days, when the former India skipper's journey ends with the final ODI against England at Lords on Saturday, she would have played 12 Tests, 68 T20Is and 204 ODIs, with 353 wickets in her bag. Her tally of 253 wickets in ODIs is the best in women's cricket, with South Africa's Shabnim Ismail a distant second with 191.

When she had first donned the India colours, her current teammates Shafali Verma and Richa Ghosh were not even born, and her captain Harmanpreet Kaur was still a kid dreaming of playing the game.
She has been a bridge between the struggles of travelling in second class compartments, living in dormitories with common washrooms to business class travels and staying in swanky five-star properties with secure central contracts.
"I will never forget the day I made my debut against England. As a 19-year-old all I wanted was to bowl fast and pick up just one wicket," said Jhulan during a virtual interaction.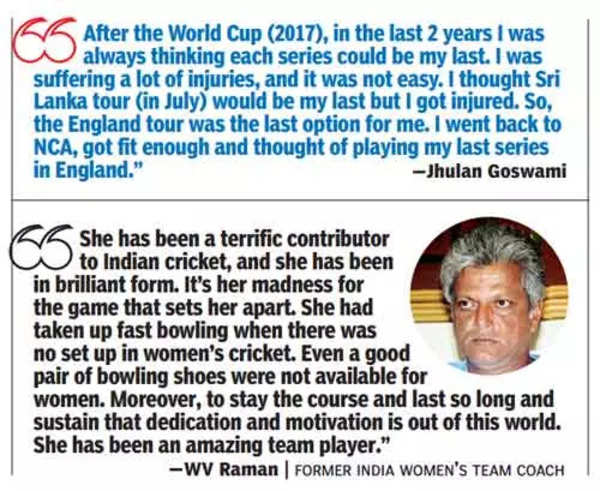 At a time when sportspersons have relatively short careers, retirements of former India skippers Mithali Raj, Jhulan Goswami and tennis greats Roger Federer and Serena Williams — all having completed two-decade long journeys — are perfect examples of longevity.
The spark to play for India had been ignited way back in 1997, after watching Australia play New Zealand in the Women's World Cup final at the Eden Gardens. Jhulan, then 15, was at the ground as a ball girl.
Back then, the nearest women's cricket academy was almost 80km away from home, at Vivekananda Park in Kolkata. Jhulan would take the 5am train from Chakdah to Sealdah to attend practice at 7:30 a.m.

"She has struggled a lot. At times she was exhausted, but Babul (Jhulan) was determined. Her grit and dedication helped her achieve what she had desired in life and that hunger is still there. But age is catching up and it's time to make way for the juniors," Jhulan's mother Jharna said.
There was a time when Jhulan almost gave up. After returning home exhausted following a selection trial for the Bengal team, Jhulan had refused to go back the next day. But it was Jharna who ensured that she did go back. And by the afternoon, she had bowled her way into the Bengal team. There was no looking back from there.
From Bengal to Air India and then India debut, Jhulan's dream had taken wings.

Asked if this 20-year-long career ever felt exhaustive, Jhulan said: "Every time I got injured, I wished I was not a fast bowler. I secretly longed to quit."
To finish one's career at Lords is a dream and Jhulan's love affair with England is set to get a fitting farewell. She made her ODI, Test and T20I debuts against England in 2002 and 2006 respectively.