Javed Miandad and I got along well off the ground: Kiran More | Cricket News – Times of India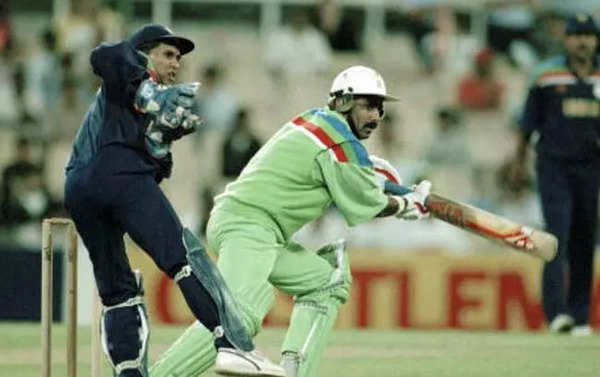 When it comes to India vs Pakistan cricket, there is of course an intense on-pitch rivalry that goes back decades. There have been multiple instances of player face-offs in India-Pakistan matches over the years. However, off the ground, many of the players have been known to have cordial relationships and have spent a lot of time socialising with each other, when on tour earlier.
The two teams don't play bilateral series anymore, which means that the players don't get to visit each others' homes etc., but on the field there is ample evidence of player bonhomie and mutual respect, like we saw in Sunday's Asia Cup match, which turned out to be quite the thriller that India won by 5 wickets.
But there was a time when an India-Pakistan cricket match was almost sure to produce some on-field altercation or banter.
One unforgettable instance was the
Kiran More
vs
Javed Miandad
incident in the 1992 World Cup, which every hard core Indian and Pakistan cricket fan will remember or know about.
Kiran More, who toured Pakistan in 1989, spoke to Times of India recently about that incident in an interview, along with his friendship with players from across the border.
What had happened that led to Javed Miandad jumping like that in that 1992 World Cup match?
I think it is the match pressure and arguments we had on the field. Both sides had sledged each other. When he came to bat we were all sledging him and when we went to bat, they were sledging us.
This is how the reaction came out. I appealed when a couple of balls were bowled down the leg side and then he asked me why I was appealing.
The argument went on and then he started jumping around and imitating me. That is how the famous reaction came out, which you have seen on TV.
Was there constant sledging going on with Javed Miandad and other Pakistan players?
Everyone used to sledge on the field and the Pakistani team did too, their whole team did. On the field, both sides sledged
Who were your good friends from the Pakistani team back in the day?
I had a few good friends from the Pakistan team. Today, there is a lot of friendship between both sides. Waqar Younis, Mustaq Ahmed, Wasim Akram, Moin Khan, Zaheer Abbas, though he was much senior to me, and Javed Miandad were my good friends
Javed Miandad and you got along well off the ground?
Yes, we got along well. I had gone for dinner to his house during the tour of Pakistan back in the day. It was great fun being with them off the field.
In the subcontinent, we share jokes, the language is similar. We share cricketing knowledge. We share stories about our families. And it should always be like that. It is healthy.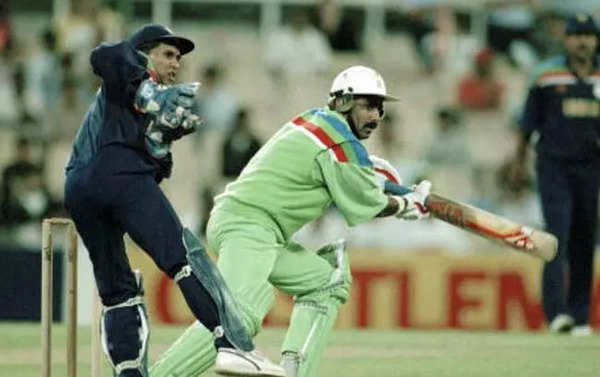 You toured Pakistan in 1989, which were the places you visited there?
We played across the country (Pakistan) in Lahore, Karachi, Peshawar, Multan. We literally played everywhere. We had a good trip. We drew the four test matches. We had a good tour and the people (in Pakistan) were warm.
Are you in touch with any of them who you met on that tour?
Yes, I am in touch with a lot of them
What was the reaction like of the people in Pakistan?
There was warmth and they treated us really well. Wherever we went, they really looked after us well.
In terms of your friendship, who are the people you speak to pretty often? Zaheer Abbas has not been keeping well recently…
Yes, he is not well. I am in touch with his family. We always wish each other good luck during the festivals. Sometimes Zaheer bhai will call me out of the blue and it is nice just to keep in touch with him and his family.
Your cricketing journey started from Baroda, but what stood out, according to a lot of your colleagues, was your amazing relationship with players from Pakistan…
Of course, it is quite simple actually. On the field you play hard and don't give an inch. But, a good friendship of the field is also important. Not only with Pakistan, we play competitive cricket and I have also got along well with a lot of South Africans (too). You play hard, but you make good friends and that is important.
Can you share some interesting stories involving Pakistan cricketers off the field
We used to go out for dinners. When Pakistan hosted us they would take care of us. Not only in Pakistan, when we used to play in Sharjah, we would sit together and have fun. We would drink a lot of tea and coffee and have dinner together.